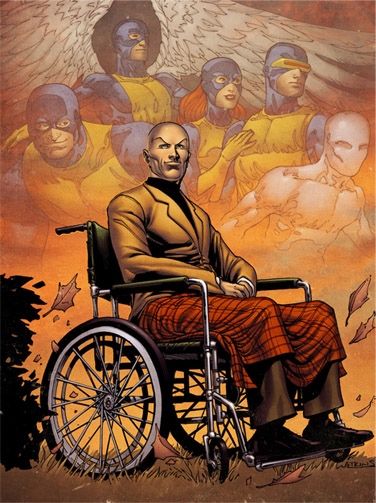 There's a difference between the right decision and the prudent decision. That's something the X-men deal with all the time in the comics, movies, and cartoons. The X-men Supreme fanfiction series is no different. Whether they're
caught in the middle of a war with the Shi'ar
or
trying to save the lost city of Nova Roma
, the X-men have had to made more than a few hard decisions. In every occasion, their guiding principles came from
Charles Xavier's
dream of peace and understanding. Now, in the evolving conflicts of X-men Supreme Volume 7: United and Divided, those principles have become obscured.
It's a critical and tenuous moment for this fanfiction series. The X-men are divided, but the world still needs them to make these hard decisions.
Charles Xavier
is trying to pursue a different dream with the Mutant Monitoring Initiative.
Cyclops
and X-Force are trying to preserve what remains of
Xavier's
old dream. They cannot and will not compromise their principles. Now, in the events of
Volatility Sensibility
, they won't have a choice.
X-men Supreme Volume 7: United and Divided is in the midst of its first arc. It's also the first major conflict since the X-men split in the events of
X-men Supreme Issue 148: New Divide
. A young mutant named Nitro find himself at ground zero of a potentially explosive situation, both literally and figuratively. A combination of bad luck and poor decisions on his part have made him a target of both the Mutant Monitoring Initiative and a group of petty criminals to which he is indebted. It's up to the X-men and X-Force to try and resolve this situation before it literally blows up in their face.
In previous volumes of X-men Supreme, the decision would be relatively easy. Helping distressed mutants is what the X-men do. Whether it's someone struggling with their powers, like
Rogue
did
when hers first manifested
, or helping a mutant like
Gambit
, who
found himself in a tricky situation back home
, the X-men make it a point to protect mutants. Under the Mutant Monitoring Initiative, complete with the constant scrutiny of
President Kelly
and
General Grimshaw
, it's not so easy anymore. Helping Nitro might also mean turning him over to the government or sending him to prison. That puts the X-men in a tough position while giving X-Force an opportunity to intervene.
Who is right and who is wrong in this instance? Will
Xavier's
new methods win out? Will
Cyclops
and X-Force prove him wrong? It's the first major test for the X-men and X-Force in X-men Supreme Volume 7: United and Divided, but it will certainly not be the last. It is, however, as explosive as it gets. Whether they want to save Nitro or the innocent people he may hurt with his powers, they'll have to make those hard decisions soon. What they do and don't do will set the tone for the future of this fanfiction series. Make no mistake.
Volatility Sensibility
will have significant implications and it starts with this issue.
There's plenty more to come with X-men Supreme. This first arc of X-men Supreme Volume 7: United and Divided is meant to set the tone for the kind of conflict you'll see between the X-men and X-Force. Now, I've followed the X-men comics as closely as most other X-men fans and I know that divided X-men has become somewhat taboo in recent years. I hope to go at it from a different perspective here in X-men Supreme.
As such, it's very important that I continue to get feedback from readers on this fanfiction series. I especially want to hear from those fans who were as disappointed as I was with how the whole schism issue was handled with the X-men comics. I want to handle it better here in X-men Supreme and I need feedback to ensure I'm succeeding. Either
post your comment directly in the issue
or
contact me
directly. Either way is fine and I'm always happy to chat X-men. Until next time, take care and best wishes. Xcelsior!
Jack