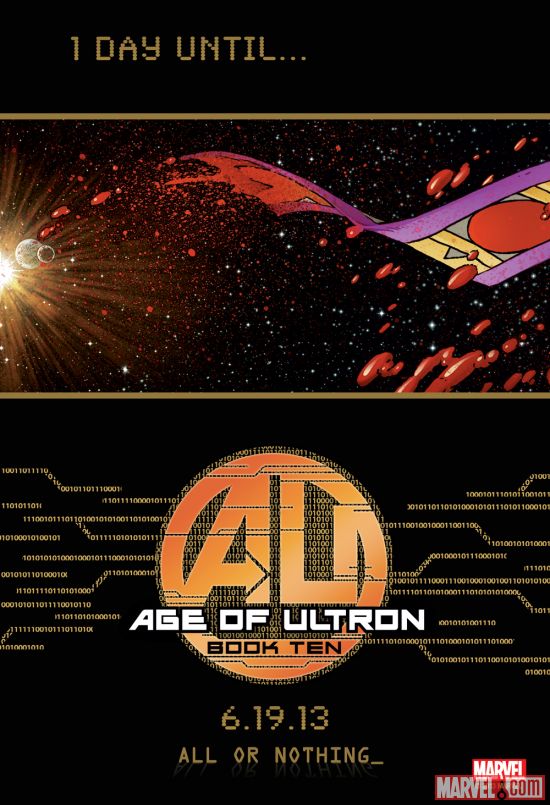 I know I'm going to piss a few people off by doing this. Thankfully, I'm usually too shit faced to care. But in the same way nobody over the age of 16 will ever admit to liking Justin Bieber (you know who you are), nobody will ever admit to looking for spoilers when they leak out early on the internet. Like teenage boy caught having sex with his hot teacher, we pretend to be outraged yet we still gaze upon it the same way a dog gazes upon a juicy steak. I still remember how I pissed some people off by posting spoilers to Amazing Spider-Man #698 and #700. Well, fuck those people because I'm doing it again!
This time, the big spoilers come for Age of Ultron. On the surface it has been just another big time Marvel event that pits the Avengers against Ultron. It's pretty basic shit that has been mediocre for the most part, but from the very beginning Marvel has teased a huge, ass-clenching ending that will forever change the Marvel universe. Yeah, they promise that every other week, but this time they claim to mean it. Well tomorrow, Age of Ultron #10 comes out and Marvel has gone to great lengths to keep that ending secret. Well I guess they failed miserably because apparently, the issue has already leaked on file sharing sites and message boards. Because unfortunately for Marvel and all comic book publishers, the internet and scanners are just way too fucking easy to use. And unless they want to uninvent the interneet and incur the wrath of porn addicts everywhere, they have to live with this shit. And while I won't post scans (yet), I will post a leaked summary of Age of Ultron #10 that I found on a message board. If it's bullshit, I'll correct it. But this is what happens so clench your asshole and get ready.
SPOILER
SPOILER
SPOILER
SPOILER
SPOILER
SPOILER
SPOILER
SPOILER
SPOILER
SPOILER
SPOILER
SPOILER
SPOILER
THIS
IS
YOUR
LAST
WARNING
SPOILER
- Future Hank Pym gives present-ish Pym a code that will destroy Ultron

- Bendis-era Avengers fight the Intelligencia, then Ultron wakes up

- Pym uploads the program into Ultron as he fights the Avengers. Ultron thinks he's winning, but it activates some replicating virus thing that shuts him down, then Thor busts him into pieces.

- Sue and Wolverine return to the normal present and everything seems all hookers and whiskey...then everything starts to hiccup
Sort of like this.
- Pages of characters feeling the space-time continuum fucking up. We do see people from the 2099 stuff and MC2, like Female-Captain America and 2099 Doom.

- Things are somewhat normal, nothing's changed...except Wolverine's actions have caused tears into the multiverse. But, hey, we now have an official explanation for every plot hole and continuity error ever: It's all Wolverine's fault! So, yeah, other universes are starting to bleed into one another.

- In the Ultimate Universe, Miles is swinging around until the multiversal hiccups cause him to land on a roof... and looking up at Galactus. As in the 616 Galactus. Ladies and gentlemen, the premise of Hunger! No, really, Hunger is Galactus going to devour Ultimate Marvel's Earth.
I would say Ultimate was fucked, but it was fucked LONG before Galactus showed up.
- Hank and Tony are talking about how he could have fucked things up royally with Ultron, but now he discovers where Ultron went wrong.

- The ending: A page of a woman talking, not knowing how she ended up in the 616 universe. Next page, it's Angela, and she vows to kill whoever brought her here.
You can never have enough hot redheads. EVER.
So there you have it. Marvel is basically taking a page right out of DC's playbook and going the Crisis route. They're not just fucking up the 616 universe now. They're fucking up the entire Marvel multiverse. Is it an ending worththy of blowing brain matter from the skulls of every Marvel fan? I say no. DC was doing shit like this decades ago, but I actually welcome the prospect of involving 616 in other alternate universe. The multiverse is a big place and with characters like Angela and 2099 Doom, the possibility for awesome is pretty big.
And I admit I sqealed like a school girl in a new pair of shoes when I heard that Galactus was now in the Ultimate universe. I say good! Let him devour that rotting corpse of a Marvel universe. It has already been gang raped and shit on since Ultimatum and Death of Spider-Man. Let Galactus do the most merciful thing and destroy it completely. It's a series whose only contribution to Marvel is giving writers a way to kill characters that would get them tarred and feathered in 616. That makes it a glorified What If series that doesn't need to exist anymore. Just let it die and let Galactus gorge on it.
So Age of Ultron will definitely have some far-reaching implications. It takes what could have just been another Avengers vs. Ultron brawl and turns it into something with big possibilities. It remains to be seen what sort of possibilities that may be, but for now I'm all for it! And thus, I deem Age of Ultron #10 awesome. Nuff said!