For the past 25 years, the world of comics and movies have given a giant middle finger to heroes in favor of the constantly lactating tit that is the anti-hero. The ideals and morals of true heroes like Superman have been deemed "uncool" by the Illuminati or some cynical shit like that and now people love Batman, Wolverine, Iron Man, X-men, and Watchmen. These anti-heroes are not the kind of people that we would want to associate with in real life. These are not the kind of people that we teach our kids to be like. Yeah, they may save the day, but they also drink heavily, lust after married women, break the law, kill people, and generally act like complete assholes.
In fact, it's gotten to the point where I can count all the true heroes on one hand. There's Superman. There's Goku. There's Optimus Prime from Transformers. But that's it. I would include Captain America in that group, but after events like Avengers vs. X-men and Civil War he doesn't deserve to be in that category anymore. Hell, he doesn't even deserve to buff the dings out of Optimus Prime's ass. That's why I was so excited to see a new Superman movie. It's not that I'm burned out on anti-heroes. But I think there's still a place for real heroes in this world where being good, upstanding, and moral is now "uncool" for some reason and being a fucking asshole is a virtue. And if the S on Superman's chest is supposed to stand for hope, then this movie does a great job of reminding people of that hope.
Let me get this out of the way first. Superman: Man of Steel is awesome. It is by far the most awesome movie I have seen this year. It's better than Iron Man 3. Hell, it's better than the first two Iron Man movies, the Green Lantern movie, the Captain America movie, the Thor movie, and every single X-men movie (although that may not be saying much since all those movies sucked). The only movie that is on the same level is Avengers and this movie is awesome for the same reasons that Avengers is awesome.
Superman: Man of Steel doesn't try to reinvent Superman's 75-year-old story. Watching this movie, you will see the same story that people have known for nearly a century. But this movie has a number of changes. The reason Krypton failed is somewhat different, but similar. The life of Clark Kent growing up in Smallville is somewhat different, but similar. The big threat posed by General Zod is somewhat different, but similar. Seeing a pattern here? Director Zack Snyder walked a fine line between changing Superman and respecting the source material. Some of those changes are really trivial. Perry White is black, played by Morpheus himself, Lawrence Fishburne. Jimmy Olson had a sex change and is now Jenny Olson. But some changes are a lot more substantive.
SPOILER ALERT
SPOILER ALERT
The biggest change has to do with Lois Lane. She's not just Superman's love interest if you can believe that. She's not just his human foil either. Lois Lane in this movie has more balls than Wolverine had in any of the X-men movies (again, not saying much). She also figures out who Superman is very early on. He never had to keep his identity from her. She knows because...well, she's a damn good reporter. And good reporters figure this sort of shit out. In fact, it makes you think that Lois Lane was completely inept at her job for not figuring it out sooner. But this shows that she's both resourceful and skilled, someone who you actually feel is worthy of Superman's love. No one else reaches out to him the way Lois does. Also, he didn't knock her up and leave the planet. Sorry, I just had to throw in another big fuck you to Bryan Singer.
Go back to blowing Joel Shumacher.
Beyond Lois, another big change is Krypton itself. Superman isn't exactly the last of his kind in this movie. We already knew from the trailers that General Zod was the big bad guy and not Lex fucking Luthor this time (although Lexcorp is mentioned in an easter egg). But Zod also had an army of fellow Kryptonian exiles that were all loyal to him and dedicated to beating Superman to a pulp. It was actually the first time in a Superman movie where he looked truly overwhelmed. And he was. He actually couldn't defeat them without help from the human race.
And this is the biggest and best change to the Superman mythos. Superman himself is not all power. He's not the one that comes in and saves the day in this movie. He actually teams up with the human race. Hell, even the military folks help him. Yeah, they act like assholes at first, but without them the world becomes Zod's personal toilet. Both the military and Lois Lane are instrumental in saving the world. And the point isn't just that Superman is powerful enough to save the day. The point is that Superman will always make the right decision, even when it's the hard decision. And that's who Superman is supposed to be.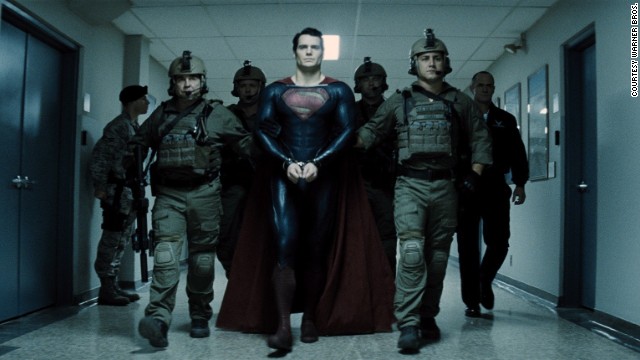 This was still a dick move, but Superman didn't hold it against them.
Beyond just the changes, this movie is very nicely detailed. The motivations and emotions are thoroughly vetted of not just Superman, but all the characters. General Zod is not just a tyrannical douche in this movie. He wants to restore the home he lost. He's a proud Kryptonian. That's not inherently evil unless you bring Nazi metaphors into the mix. And the reason why Krypton as a planet failed is thoroughly vetted too. It's not the same as it was in previous movies or in the comics, but it shows an attention to detail that you don't always see in a comic book movie. And yes, I'm looking at YOU the Dark Knight Rises.
There details extend to some flashbacks of Superman's childhood. It's not exactly like Smallville, but it once again shows that the Kent's are the reason why Superman is who he is. There were some truly emotional moments where Superman learned from his parents the importance of doing the right thing and making hard choices. That all played out later in the story and later in his life in a perfectly harmonious way. It makes this movie somewhat long at times, but every minute is gripping and it fits into a coherent whole. In the same way that I value comics that take the time to make sense, I put this movie on a higher pedestal because it makes sense.
Now I get there are criticisms to this movie.
Rotten Tomatoes
actually rated this movie lower than Superman Returns. But I say fuck you Rotten Tomatoes! Too much CGI? Who gives a shit! Too much Michael Bay style action? Who gives a shit? It's entertaining! It tells a coherent story! Yes, it's a story we're all familiar with. And yes, it's not as campy as previous Superman movies. And why should it be? It's not grim and gritty. The whole movie is centered around hope and doing the right thing. And it succeeds. If you somehow have a problem with that, then you're not being an intelligent critic. You're just being a douche-bag.
Please take this to heart, motherfucker.
Superman: Man of Steel isn't just a reboot. It's a bold new Superman for a new era. This isn't the same world from which Superman was created. It's not 1938. But this movie shows that there is still a place for the ideals that Superman represents. He, like the symbol on his chest, represents hope. Now Jor-El himself said in the movie that humanity would stumble behind that ideal, but in time we would join Superman in achieving wonderful things. That's a very real message that is a lot better than messages from other movies like Batman can get away with anything, Iron Man can built a suit to make up for the fact that he's an asshole, and Wolverine can be a cold-blooded killer yet still be a hero. None of those movies convey that ideal that Superman represents. When you see this movie, you see the hope that is that ideal for which we should all strive. Not all of us can reach it, but its mere presence is like a beacon of hope that is every bit as powerful as Superman himself.
When this movie was over, I walked out of the theater feeling every bit as satisfied as I felt when I walked out of the Avengers movie. Superman: Man of Steel is more than just another superhero movie. It takes a classic story that we all know and love and reminds us of why we love it. Superman: Man of Steel gets a 5 out of 5 and my highest recommendation. I may be an X-men fan and a lifelong Marvel fan, but I'm not afraid to admit that this movie touched me as both a comic book fan and just a fan in general. Superman is and will always be the standard by which all other heroes and anti-heroes are measured. And if you don't like, then you can go kiss his Kryptonian ass. Nuff said!