Unlettered previews are like censored tits. They're exposed yet the full extent of their beauty is purposefully shrouded by those who take a sick pleasure in cock-blocking eager fans. Yet like Sear's underwear catalog in the pre-internet days, it's better than nothing. Marvel has already previewed the shit out of X-men Battle of the Atom and every associated story. With only one issue left, it's almost time to start teasing the aftermath. Because what good is cock-blocking if it doesn't leave anyone curious to see what happens once the censors are lifted? Like the first day a boy discovers internet porn, it can be a magical moment.
Now some details about the aftermath of X-men Battle of the Atom
have already been released in solicitations for January 2014
. It was already revealed that the O5 X-men won't be going back to the past. Hell, they may be stuck in the future permanently for all we know. But they are sticking around and apparently they're getting awesome new uniforms as well. O5 Cyclops may even get to swap some body fluids with X-23 and find a new way to piss off Wolverine. It's an exciting time, even if the story itself ends up having a fuckton of loose ends.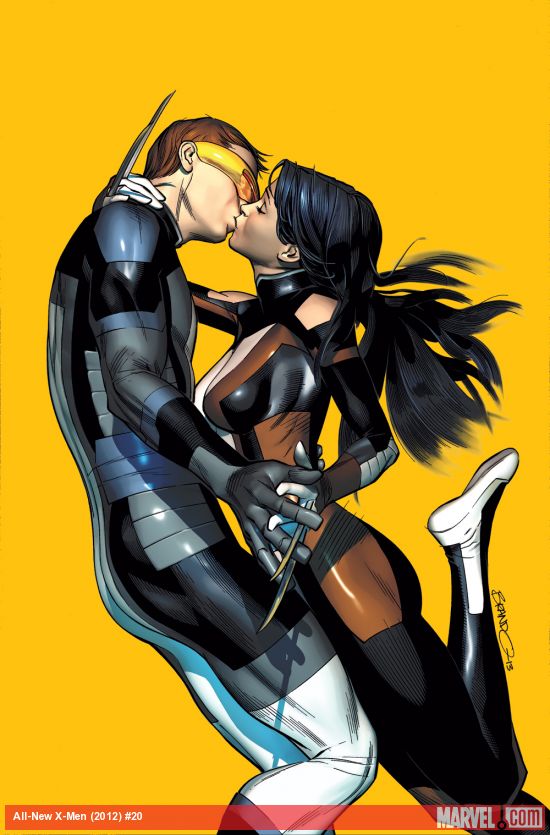 That's not the only thing that's loose.
But based on these same solicits, the immediate aftermath of Battle of the Atom will primarily be felt in books like Uncanny X-men and All New X-men. That makes sense. These are the books that basically set the stage for Battle of the Atom. But as is often the case after a big event at Marvel, certain characters are very pissed off and looking to take it out on others in a very unhealthy way. I guess there's no Dr. Phil in the Marvel universe. And in the pages of Uncanny X-men, it has been hinted that Magneto will be the first one to post a hissy fit. But based on an exceedingly vague unlettered preview that was just released by Comic Book Resources, it's hard to tell just how pissed Magneto is. All it really shows is that a pretty blond will make any preview more appealing.
CBR: Uncanny X-men #14 Unlettered Preview
For the record, I'm not against Magneto being pissed. I'm just not sure how he could possibly be more pissed than fans like me if Battle of the Atom has one too many loose ends.
Without any dialog, it's impossible to tell just what the fuck is going on here. Hell, this issue looks like it could have come out before X-men Battle of the Atom. O5 Angel is still with Cyclops's team and not in a kickass new uniform. Magneto is nowhere to be found. The students of the New Xavier School look like they wish they were taking a Calculus exam. The only saving grace is seeing a hot blond embarrass a guy who clearly just got out of the shower and probably has a hell of a boner. It's hard to tell if that hot blond is Emma Frost, Dazzler, or an entirely new hot blond since Marvel can't seem to have enough. It's also hard to tell who the unlucky/lucky guy is. It could be Cyclops or one of the students. Either way, it's pretty fucking hilarious and could only be more awesome with dialog about how cold the water was.
I try not to speculate too much since I've been so dead wrong lately. But give it another shot anyways since I'm sure some readers enjoy watching me fuck up in the same way they enjoy watching Johnny Knoxville get hit in the nuts. I think that first scene is a flashback where some of Cyclops's new students start to openly doubt this team and their decision to stick with it. And that beautiful woman is Dazzler, looking to make another ally using her uncanny sex appeal to take advantage of a naked man. Yes, it's cruel. But in the long run, most men probably wouldn't mind stepping out of a shower and seeing a hot blond, even if she is fully clothed. As for the identity of the guy, I'm just going to say that it's the mini-Mystique, Ben Deeds. He hasn't done jack shit in a while and he seems to have an attitude problem. And few attitude problems can't be made worse by a beautiful manipulative woman.
I'm probably wrong, but this is all I have to go on. Battle of the Atom isn't over yet. We still have no fucking clue how pissed off or triumphant Cyclops's revolutionary team will be when all is said and done. We also don't have any fucking clue as to why this set Magneto on the path to becoming an asshole again. In other words, we're clueless as fuck and will have to wait a month to see how this pans out. By then I should probably have run out of Halloween candy and out of a diabetic coma so I'm okay with waiting. Nuff said!