Back in May,
I did a quick post on the cover of All New X-men #15
and my stomach still hasn't forgiven me. And since my stomach has a tendency to be more vindictive than an ex-girlfriend, here it is again.
It's like laxative for your stomach.
Well I'm still disgusted by the idea that Brian Michael Bendis might try to hook Jean Grey up with Beast after Chris Claremont showed in his prematurely canceled X-men Forever series that it's a shitty idea. I'm even more opposed to the idea given how recent issues of All New X-men have dropped no hints whatsoever that Jean Grey is interested in Beast or vice versa. Hell, Beast looked like he got more of a boner from the exotic properties of Silver Samurai's sword in the pages of All New X-men #14. There are a lot of dick jokes I could make about that, but I have too much respect for old Japanese samurai movies to do so.
Also, Brian Michael Bendis has shown a recent history of using deceptive covers. They may show one thing, but they don't actually happen in the book itself. Case and point:
This never happened.
It looks like O5 Cyclops and Havok were going to beat the everloving shit out of each other. In fact, they did the exact opposite. They hugged it out in a way befitting of a made-for-TV movie on Lifetime. So that cover was bullshit. Then there was this one: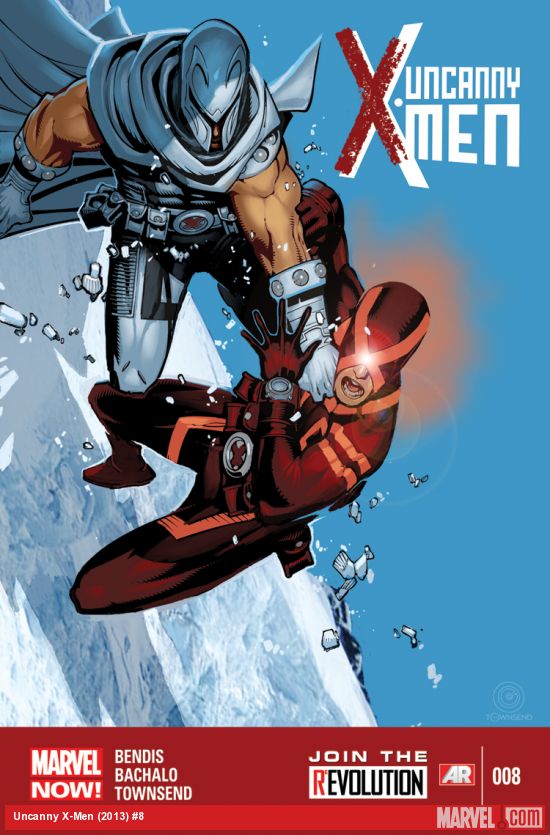 Magneto learns to choke a bitch.
It looks like Magneto and Cyclops are finally going to throw down just like the good old days. But again, this shit doesn't happen. In fact, close to the opposite happens. They just have a friendly chat followed by some one-on-one training that I can't make a gay joke about sadly. There was fighting in this issue, but it did not come from Magneto and Cyclops.
With this in mind, that nauseating cover may not amount to much. But I'm never convinced. Like catching the clap from a hooker, it only takes once. I hope it's not All New X-men #15, especially since this is the last issue of All New X-men before the big Battle of the Atom event in September. But as my Uncle Dickjacker once said, "If hope were whiskey we would all have died of liver disease by now. Now where the fuck are my pants?"
And if you can look past the disturbing cover, there is another story that promises to unfold in All New X-men #15 that Brian Michael Bendis revealed months ago. This will be the issue that O5 Jean Grey finally confronts Rachel Grey, who for some reason hasn't noticed that her time displaced mother is now at the Jean Grey Institute. It's one thing to confront your mother from an apocalyptic future. It's quite another to confront her when she's a time displaced teenager as well. It's like Freaky Friday on crack that Lindsey Lohan hasn't smoked yet. It has so much appeal that my stomach might actually forgive me. And this past week, we finally got a preview of what we can expect.
There's no Beast, but it does show a teenage Jean Grey wearing only a towel so I consider that a win. And my penis will always have priority over my stomach. That's just the way it is. And I hope that in the end my penis is happier than my stomach. This is the last stop in the road until Battle of the Atom and I would like it if I didn't have another reason to hate Beast. Nuff said!